TRAIN WITH THE WORLDS' LEADING EXPERTS
Dinair originated airbrush makeup for daily wear, glamour, high definition, paramedical and camouflage techniques. Dinair has taught professional makeup artists in over 60 countries for over 30 years.
Our Expert instructors will guide you through Dinair's signature tips and advanced techniques in our two-day intensive workshop.
2 DAY HANDS-ON
WORKSHOP
Full Face Beauty
Foundation
Blush
Lips
Eye Shadow
Eyebrows
Eyeliner
Hair Highlights
Hair Art
Bridal
Men's Makeup
Tattoo Covers
Camouflage/Paramedical
Tanning
Fashion Body Design
Dinair Pointillism Techniques
LEARN NEW ADVANCED TECHNIQUES
Tattoo Cover™ Coverage for tattoos
Neutralizer + Radiance blends for advanced camouflage
Advanced blending techniques for our over 200 shades.
ARRIVE A BEGINNER LEAVE AN
EXPERT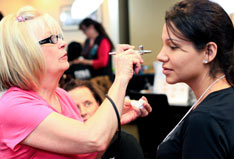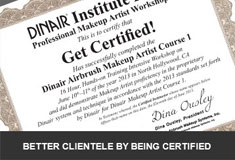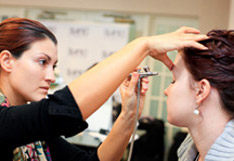 Whether you're a first-timer or desire advanced airbrush makeup training you'll make extraordinary strides in your artistry in a minimal amount of time.
Stand out from the rest. Offer more than just airbrush foundation on your next client. Specialize in this unique service and application. Be able to airbrush everything! Make weddings your bread and butter! Attract new clients because you offer something so unique.
North Hollywood, CA $540*