Home > Kits > Camouflage Starter > Support
SUPPORT
Our Airbrush Acne Kits contains everything for your most amazing acne makeover ever. Enjoy relief from irritating traditional rub on makeups, brushes and germ ridden sponges.
Created by the founders of airbrush cosmetics.
Each kit includes color and coverage combinations curated to provide the highest level of professional results.
We are located in North Hollywood, CA. Support is just a call, email, Chat or Skype away. English and en Español.
Hundreds of how to videos.
Give your skin the amazing look and feel it deserves!
Prep, spray and slay your day!
Dinair Airbrush Kits - Covering Acne for over 30 years.
4 Steps to Flawless:
Prep The first step in your complexion perfection journey is all about prep. Start with freshly washed skin free of any oils. Apply your favorite Dinair skin care or bare skin is the best way to get started for longer lasting makeup.


Conceal Spot correct with Camouflage Neutralizer concealers. Airbrush at 1-2 inches from skin to target small coverage areas.


Neutralize Apply light passes of Camouflage Neutralizer Base as needed to filter out and neutralize areas of redness, darkness or scarring. Keep airbrush 3-4 inches from your face.


Foundation Create your finished look with Glamour Foundation. Apply in very light passes to entire face to gradually increase coverage. Vary your makeup coverage to explore your most natural looks. Try 6 to 8 drops for your face area. For a genuine Dinair makeover mist a little color on your neck, ears, decollate, hands and arms. Enjoy total look transformation possible with Dinair!


Dinar is not just makeup, it is a quality of life choice. Live Beautifully!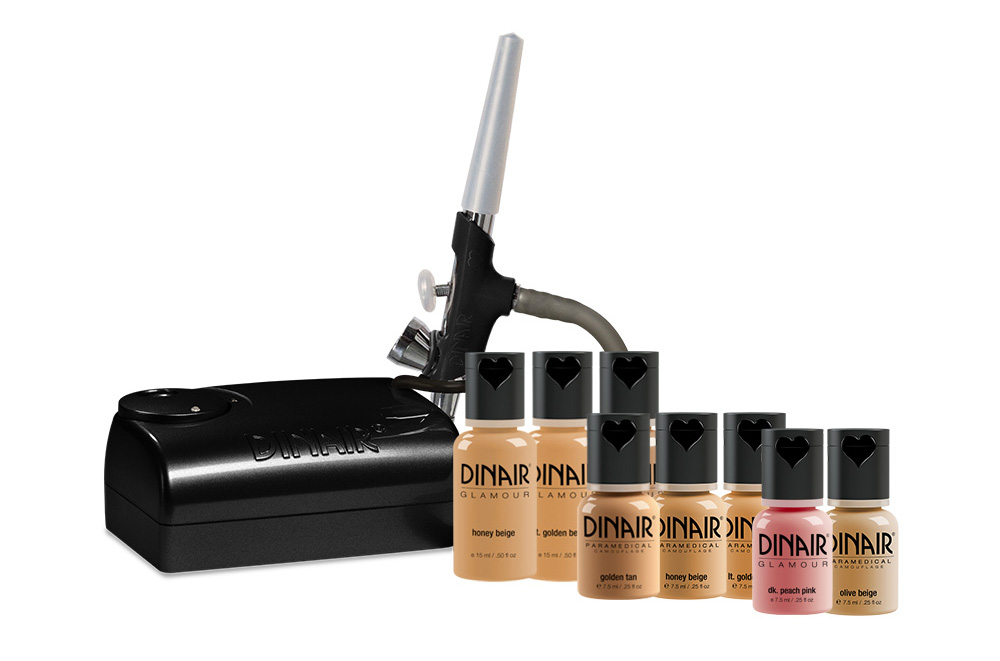 ​